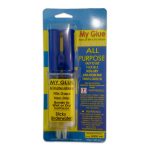 My Glue is an easy-to-use, flexible, non-drip, all-purpose, underwater epoxy glue. Sticks to wet or dry: PVC, metal, wood, plastic, iron, inflatables, glass, plastic, vinyl, stone, fiberglass, plexiglass, acrylic, pools, stainless steel, fountains, spas, tile fabric, pumps, drains, skimmers, tanks, filters, toys, boats, pipes, furniture, and aquariums.
Flexible, toughened, non-corrosive, structural adhesive specifically designed for various applications and substrates, including wet or dry bonding of ABS, PVC, flexible PVC, CRS, composites, wood and cement.
My Glue is ok to paint and sand, and resists shock, shrinkage, expansion and vibration. My Glue has been formulated for superior peel, impact and fatigue resistance. It's toughness, imparted by flexibility, causes the energy to break a bond to be significantly higher than brittle epoxies. Lap Shear Psi, plus high break-energy Psi affords bond strength/resiliency.
How to Use My Glue:
Note caution information on dispenser.
Clean and roughen all bonding surfaces.
Remove cap, cut or snap tips off nozzle ends at groove.
Mix equal parts of resin and hardener to uniform color.
Apply to bonding surfaces, press together leaving glue between joints.
Working time = 15-30 Min., Handling time = 1-2 Hrs., Full Cure time = 24 hrs.
Replace cap on Nozzle.
Can be applied above or below water.
Cold temps slow the cure time.
Clean un-cured glue with alcohol.
Details:
Resists shock, shrinkage, expansion and vibration
Sticks to Wet or Dry Surfaces
Non-corrosive
Superior peel, impact and fatigue resistance
Significantly higher energy required to break a bond compared to brittle epoxies
Lap Shear Psi, plus high break-energy Psi
Tensile Strength = 1200+ Psi
Aquarium Safe – Passed DOHS (Title 22) Hazardous Waste BioAssay using flathead minnows under CA Dept. of Fish and Game guidelines
Easy to Use
Non-Drip
Paint and Sand OK
Can be used underwater (sticky underwater)
Fills gaps
All weather adhesive
Ideal For Use On:
ABS, PVC, Flexible PVC, CRS, Composites, Wood, Cement, Plastic, Iron, Stainless Steel, Plexiglass, Acrylic, Metal and Fiberglass
Toys and Inflatables
Pools and Spas
Fountains and Tile
Boats
Pipes
Furniture
Aquariums